Congrats! You Qualify For The Proactive Advantage!
You Get 50% Off Your Enrollment Fee
Plus…
We've learned after two decades of doing this that there are consistent markers our top clients share. When you step-up and start strong with us today, we reward your commitment with an iron-clad guarantee:
.

ROI GUARANTEE
We guarantee—in writing – that you'll get at least a 200% ROI in terms of increased net profits (pretax) within the first year working together. Or the program's free!
This provides you with the ultimate can't-lose situation so you can start strong and confident with us today.
And that's just the guarantee. Our top clients do much better than that…
"The results speak for themselves: Last year, my business generated 9-times the operating profit than it did since that first Maui event I went to 5 years ago, and my net worth has increased tenfold. I have more time off, am more relaxed, and have a much better quality of life. It's really hard to beat that return on my investment."  -Jennifer Lyle
Nine times the profit. Ten times the net worth.
But best of all, more time off, more relaxation, and a better quality of life.
---
Your Maui Mastermind Business Coaching Plan
Strategic Layer




Planning, Prioritizing, and Sequencing

Each quarter we'll work with you in live, in-person Strategic Planning Intensive to make sure you have a clear, written, 1-page plan of action to follow to get maximum results.

Includes:

In-person or virtual participation in our quarterly Master's Series of Workshops and Strategic Planning Intensives.

Execution Layer




Get Results Through Focused Action

Now that you have your written quarterly action plan, we'll work with you weekly and bi-weekly to make sure you're staying on track with the structured accountability and support to make sure you are executing on your plan and getting the results you want.

Includes:

Bi-weekly private, one-to-one coaching sessions

Weekly online accountability check-ins (takes just 5-10 min. each)

Small group coaching sessions to troubleshoot challenges and accelerate implementation.
Join Us Today As A "Proactive" Member And Also Receive These Coaching Bonuses:
Full access to the Maui Coaching App for up to 5 users
The Maui Coaching App is a powerful, structured tool to help you and your team invest your best time, attention, and resources into your highest return activities.  We've pared it down so this web-based app is simple and easy to use for creating your 1-page action plan, conduct your quarterly review, and plan out your highest value weekly activities.  (

Value: $3,000/yr

)
All your Maui Coaching App users will get full access to the business training library.
Embedded in the heart of the app is a rich collection of video trainings on subject from hiring, to growing sales, to streamlining operations.  It comes with a searchable index, established topic specific "playlists", and complete self-study business courses for you to quickly master a specific business subject.  (

Value:  $12,000

)
In-person and live-streamed access to the "Masters Series" of advanced business training workshops.
Each quarter you the business owner will get to join in with your peers at these advanced 2 and 3-day events.  Each of these events is focused an a specific subject.  For example:  Systems and Controls; The CFO Short Course; Grow Your Profits; Leverage Your Time; etc.  As a Silver level coaching client you'll be able to bring up to 3 of your staff with you to any of these live trainings with the standard tuition ($5,000-10,000 depending on the event) completely waived.  NOTE: There will be a nominal hard cost offset fee for staff which is typically between $250-350pp.  (

Value: $18,000/year

)
$250 travel credit for you the owner to attend your first Maui in-person training. 




That's right—we'll cover up to $250 of your airfare or hotel to join in your first live Maui event within the first 6 months of you joining the program.  This is our way of encouraging you to make the time to spend with us and your Maui peers in person early in your coaching journey.
---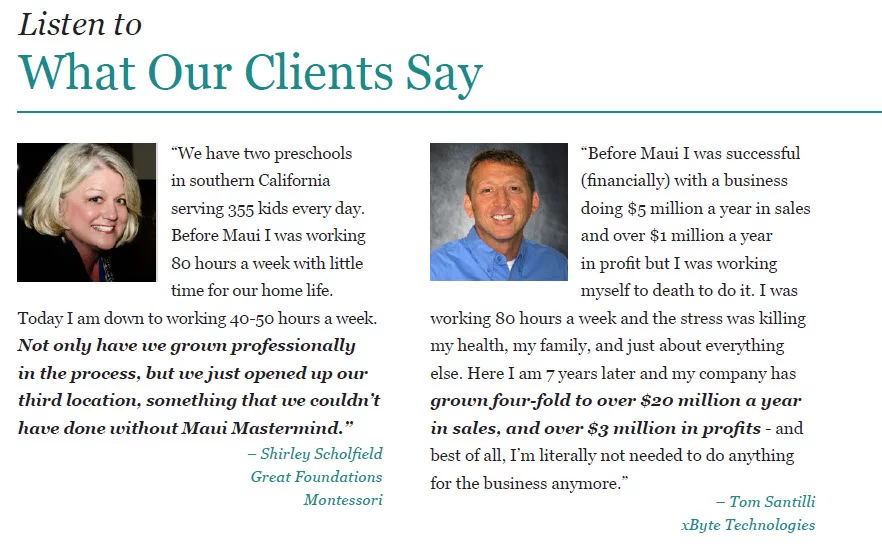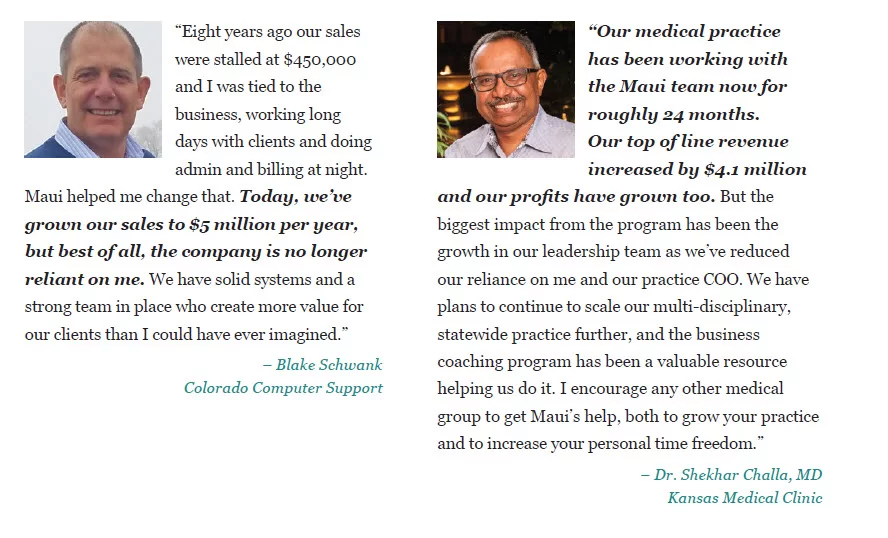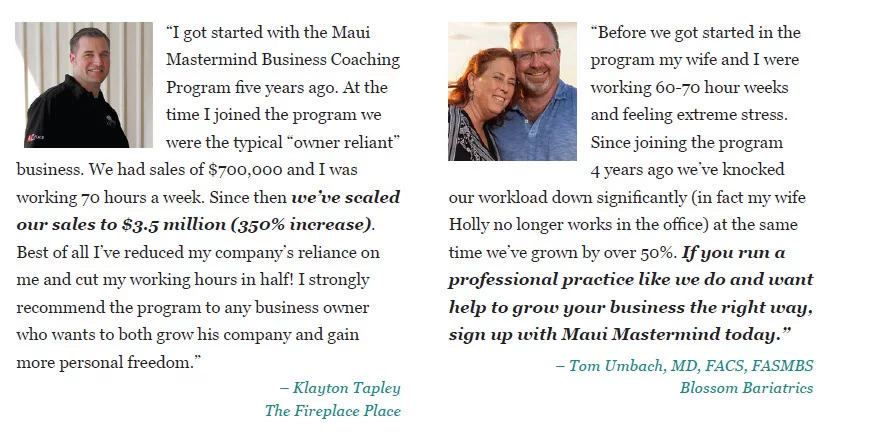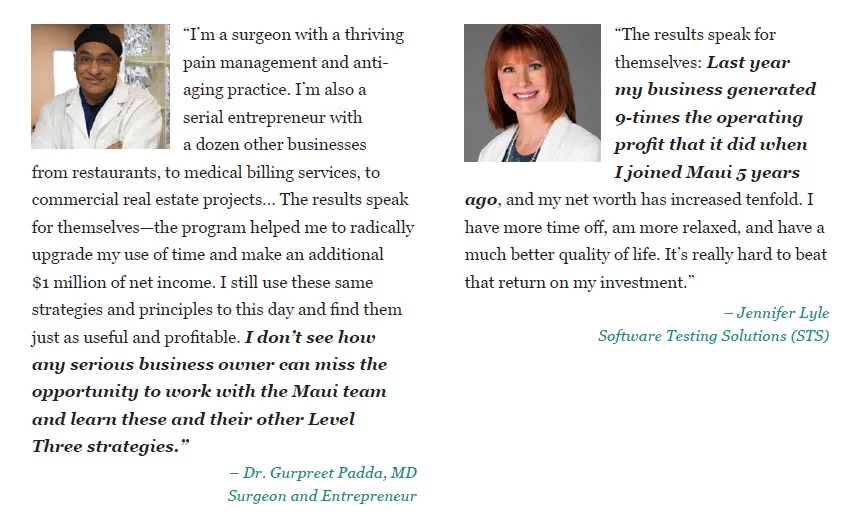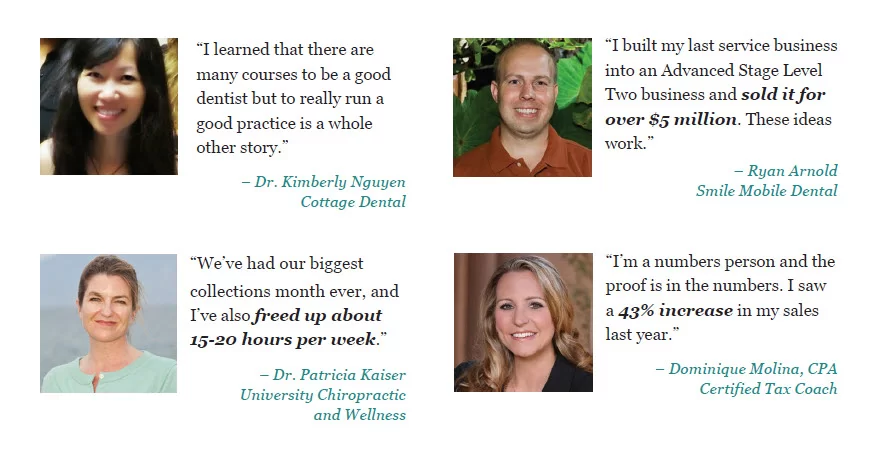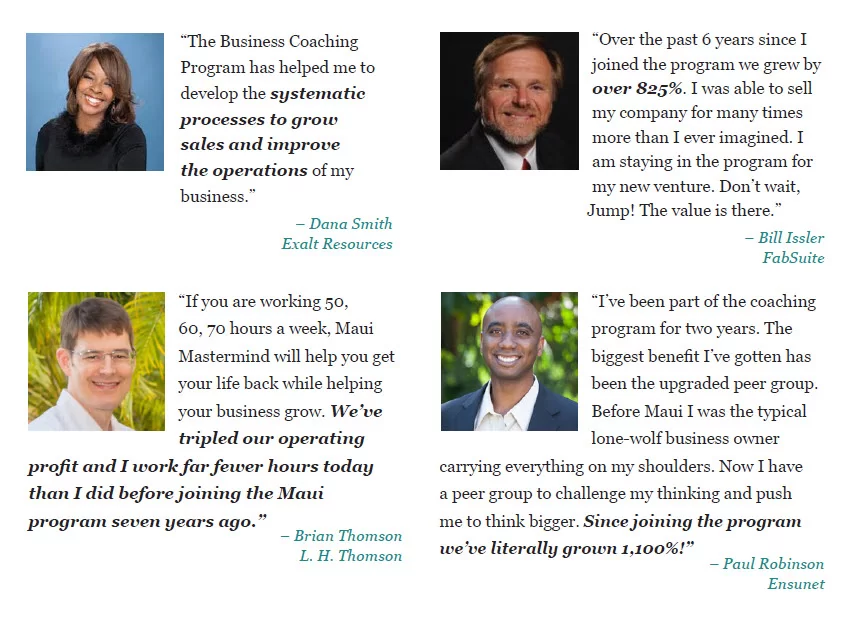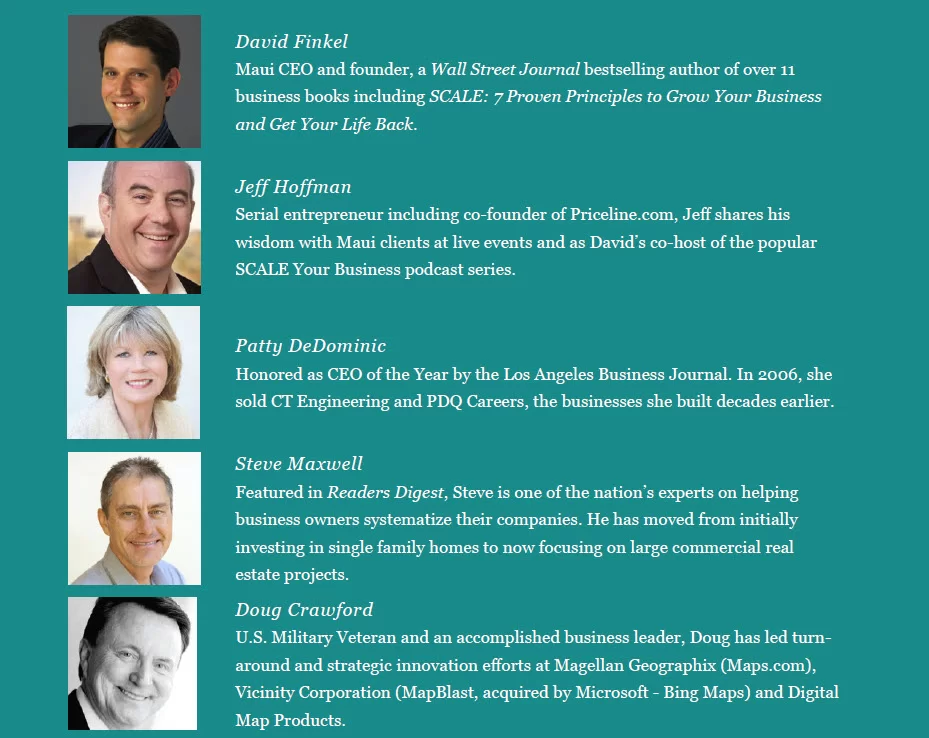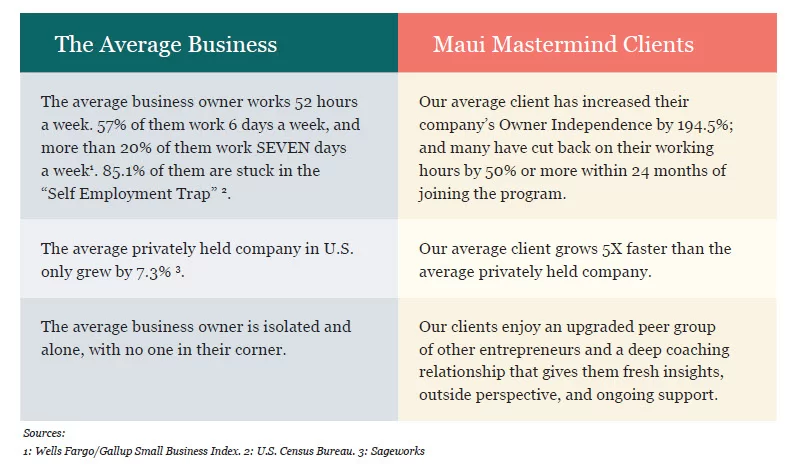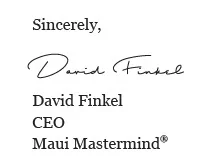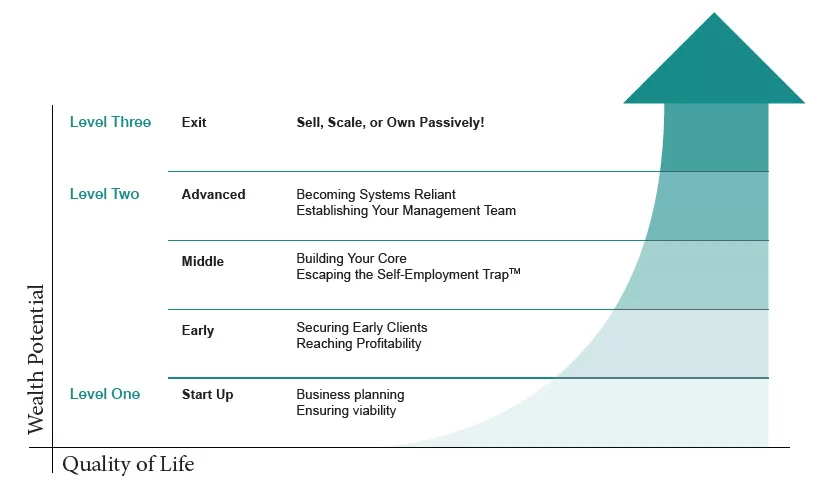 Maui Mastermind clients grow 5x faster than the average US small business, while reducing weekly working hours of the business owner.